Savor the Art of Coffee
Rich Aroma Exquisite Taste
Ensuring each cup is bursting with flavor. Come and experience the art of coffee at Bazerkan.
Crunchy Goodness in Every Bite
Savor the Art of Roasting
Perfect as a snack or as a topping on your favorite coffee, Bazerkan's roasted nuts are the ultimate treat.
Freshly Roasted Perfection
Exquisite Coffee Beans
Experience the perfection of Bazerkan freshly roasted coffee beans in the comfort of your own home.
Experience the Best of Coffee Shops in Al Ain at Bazerkan
In Al Ain's heart, Bazerkan is the premier destination for coffee connoisseurs and casual enthusiasts. As one of the best coffee shops in Al Ain, we pride ourselves on serving the most aromatic and flavorful specialty coffee Al Ain has to offer.
Whether planning a cozy gathering or looking for the perfect gift, our Bazerkan Coffee shop and roasteries covers you. Share the love of delicious nuts, almonds, and Arabic sweets with your friends and family, or surprise them with our exquisite chocolates and unique drinks like our custom-made Coffee and Turkish Coffee.
We guarantee our gourmet treasures will leave a lasting impression on everyone who experiences them.
Escape the Hustle and Bustle
At our cozy Al Ain coffee shop, we understand the importance of a perfect cup of coffee. Whether you're taking a break from a busy day or looking to relax with friends, our warm and inviting atmosphere is designed to help you unwind.
You can sip away all your worries and enjoy the soothing sip of coffee to indulge in a love affair with your taste buds and nerves!
Calming Nerves with the Perfect Cup
Nothing compares to the soothing sensation of sipping on a delicious cup of coffee. At Bazerkan, we carefully source the finest beans and use expert brewing techniques to create a smooth, rich taste that helps calm your nerves and rejuvenate your senses. Our Turkish coffee will take you to Turkey to enjoy its aromatic coffee and indulge in an experience of beauty and deliciousness.

Savor the Bazerkan Difference
As a leading coffee shop in Al Ain, we are committed to providing top-notch service, delicious treats, and exceptional specialty coffee. So come, discover the Bazerkan difference, and let our passionate baristas transport you to a world of coffee bliss. You can also have our quality product delivered wholesale to help you have the same love at your homes.
What we Offer
At bazerkanuae, we offer a wide variety of delectable treats to satisfy your cravings. Indulge in our delicious assortment of sweets and chocolates, perfect for gifting or treating yourself. For a healthier snack option, try our roasted nuts that are packed with protein and essential nutrients. And if you're a coffee lover, we have an excellent selection of freshly roasted coffee beans that will tantalize your taste buds.
Chocolates and Sweets
Indulge in the delectable world of Bazerkan's artisan chocolates and sweets, a perfect accompaniment to our rich coffee. Our handcrafted confections are made using only the finest ingredients worldwide. From luxurious chocolate truffles to decadent baklava and mouthwatering Turkish delights, there is something to satisfy every sweet tooth. Our skilled chocolatiers and pastry chefs create a symphony of flavors, textures, and aromas, promising an unforgettable experience. Discover the joy of Bazerkan's chocolates and sweets, and let your senses be whisked away to a world of culinary delight. You can also have our chocolates and sweets ordered for your wedding and special occasions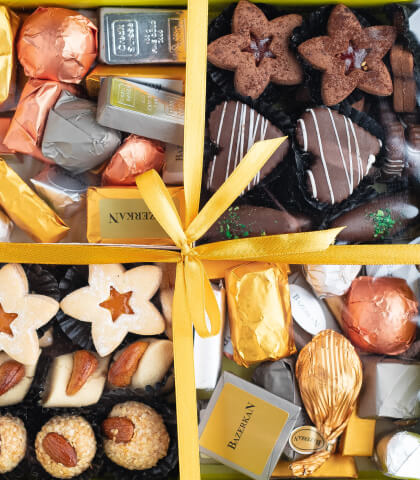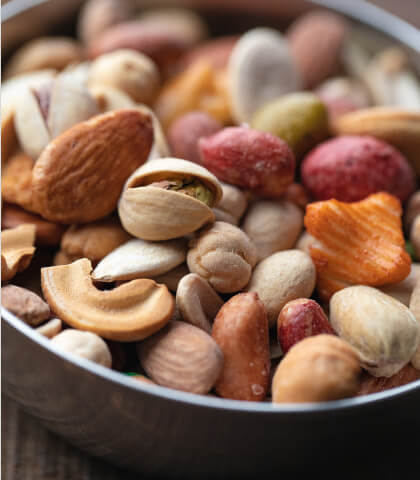 Roasted Nuts
Experience the irresistible crunch and rich flavors of Bazerkan's premium roasted nuts. We carefully select the highest quality nuts from trusted suppliers and roast them ideally using our time-tested methods, ensuring the most delectable taste experience. Choose from various nuts, including almonds, cashews, hazelnuts, pistachios, and more, in various flavors such as salted, unsalted, or spiced. Our roasted nuts are a perfect snack on their own, and they also make a delightful addition to our sumptuous chocolates and sweets. Unleash your inner connoisseur and savor the exquisite taste of Bazerkan's roasted nuts.
Roasted Coffee Selections
At Bazerkan, our passion for coffee runs deep. We pride ourselves on offering an exceptional range of roasted coffee selections from the finest coffee-producing regions worldwide. Our expert roasters meticulously craft each batch, skillfully unlocking every bean's unique flavors and aromas. Our coffee menu caters to various preferences, from single-origin masterpieces to enticing blends. Whether you're a fan of the bold, robust, or smooth and delicate, you'll find your perfect cup at Bazerkan. Pair our aromatic coffee with our exquisite chocolates, sweets, or roasted nuts, and elevate your coffee experience to new heights.
Discover Coffee Shops Near Me
Were you tired of searching for "coffee shops near me"? Look no further; Bazerkan is the ultimate cafe and coffee shop where you can indulge in an unforgettable coffee experience.
Visit Bazerkan Today
If you're in Al Ain and looking for the perfect coffee shop in Al-Ain, join us!
Indulge in the finest coffee, make new friends, and let the enchanting aroma of freshly brewed coffee soothe your soul. Your perfect coffee awaits!
Why Bazerkan Coffe Must Be Your Ultimate Choice!
With our commitment to quality and sustainability, you can enjoy a guilt-free indulgence knowing that you're supporting ethical business practices. Plus, our wide selection of blends means there's something for every coffee aficionado, from bold and robust to smooth and mellow.

Experience the Uniqueness of Bazerkans' Specialty Coffee
At Bazerkan, our coffee isn't just a beverage; it's a sensory journey that begins with carefully selecting the finest beans and culminates in the perfect cup crafted just for you. Our commitment to quality and excellence sets us apart as we bring you an exceptional coffee experience that tantalizes your taste buds and elevates your spirits.
Ethically Sourced, Exceptional Beans
Our dedication to exceptional coffee begins at the source. We partner with sustainable, ethically-minded farms from around the globe to procure the highest quality beans. This ensures a distinctive flavor profile and a positive impact on the environment and communities cultivating our cherished coffee beans.

Share the Love with Our Scrumptious Offerings
Whether planning a cozy gathering or looking for the perfect gift, our Bazerkan sweet collection covers you. Share the love of delicious chocolate, nuts, almonds, and Arabic sweets with your friends and family, or surprise them with our exquisite chocolates and special drinks. We guarantee our gourmet treasures will leave a lasting impression on everyone who experiences them.
Masterful Roasting Techniques
Our expert roasters meticulously monitor each batch to achieve the ideal roast level that accentuates the beans' unique characteristics. We unlock the beans' full potential through precision roasting, bringing forth a symphony of flavors, ranging from fruity and floral notes to deep, earthy undertones.

Passionate Baristas, Artful Craftsmanship
Our skilled and passionate baristas are the heart and soul of Bazerkan. With extensive training and a genuine love for coffee, they artfully craft each beverage with attention to detail, ensuring that every sip is a testament to their expertise. From rich espressos to velvety lattes, our baristas transform each cup into a masterpiece that is as visually stunning as delicious.
Innovative Brewing Methods
At Bazerkan, we continuously explore new and innovative brewing methods to enhance your coffee experience. By combining traditional techniques with modern technology, we extract the most exquisite flavors and textures from our beans, allowing you to savor every nuanced note in your cup.
Indulge in Bazerkans' Specialty Coffee
Treat yourself to the unparalleled taste of Bazerkans' specialty coffee. With our unyielding commitment to quality, ethically sourced beans, masterful roasting, passionate baristas, and innovative brewing methods, we invite you to embark on a coffee adventure that will leave you craving more. Visit Bazerkan and discover why our coffee is exceptional.
Visit us today to delight in our delectable offerings and embrace a taste of the UAE's finest culinary treasures.
More Than Just a Coffee Shop

Bazerkan- A Wholesome Experience with Wholesale Products!
Take advantage of the all-encompassing gourmet experience at Bazerkan. As one of the most sought-after coffee shops in Al Ain, we go beyond just serving coffee - we're your passport to a world of flavor sensations.
So, next time you search for "coffee shops near me," remember Bazerkan is your ultimate destination for cafe-style relaxation and a gourmet shopping spree.
In addition to our exceptional coffee experience, Bazerkan Coffee is proud to introduce our exclusive wholesale collection. We offer an extensive range of premium coffee, nuts, almonds, Arabic sweets, chocolates, and special drinks, making us the ultimate destination for all your gourmet needs in Al Ain, Dubai.
So, whether you're searching for the best coffee shops in Al Ain, craving specialty coffee, or exploring cafes and coffee shops near you, look at Bazerkan.
What are the hours of operation for Bazerkan Coffee Shop in Al Ain?
Bazerkan Coffee Shop is open seven days a week. Our hours of operation are Sunday to Thursday from 7:00 AM to 11:00 PM and Friday and Saturday from 8:00 AM to 11:00 PM. These hours may be subject to change during public holidays, so please check our website or social media pages for updates.
Do you offer vegan or gluten-free options at Bazerkan Coffee Shop?
We strive to cater to various dietary preferences at Bazerkan Coffee Shop. We offer a range of vegan and gluten-free menu options, including specialty coffee drinks, snacks, and desserts. Please inform our staff of your dietary requirements; they will gladly assist you with suitable options.
Is Bazerkan Coffee Shop a suitable venue for hosting events or gatherings?
Absolutely! Bazerkan Coffee Shop provides a warm and inviting atmosphere, perfect for hosting small gatherings, meetings, or celebrations. Please contact us at least one week in advance to discuss your event requirements, and we will be happy to assist you in creating a memorable experience for your guests.
Can I order Bazerkan Coffee's wholesale products for my business or personal use?
Yes, Bazerkan Coffee offers a wide variety of wholesale products, including coffee, nuts, almonds, Arabic sweets, chocolates, and special drinks. Please visit our shop in Al Ain or contact us through our website or phone number to inquire about our wholesale offerings and pricing.
Do you offer loyalty programs or special promotions at Bazerkan Coffee Shop in Al Ain?
At Bazerkan Coffee Shop, we value our customers and love to reward their loyalty. We periodically offer special promotions, discounts, and seasonal offers. To stay updated on our latest promotions, please follow us on our social media channels or sign up for our newsletter through our website.